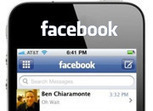 By Ian Paul, PCWorld May 25, 2012 9:19 AM
After paying $1 billion to acquire Instagram about six weeks ago, Facebook recently launched its own Instagram clone, Facebook Camera, and like many people I wanted to check it out right away.
"Great, it'll be like Instagram, but only with photos from people I actually care about," I thought. Facebook is one of the most popular photo sharing sites on the Web. During the first three months of 2012, an average of 300 million images were uploaded to the social network every day. Facebook is all about photos. This was going to be great.  Read more  . . .
 Related articles